Product Description
Pentax-F 50mm f1.7 Auto Focus SMC 50/1.7 AF K-Mount +FAST+Sharp Lens+MINTy
 

FREE SHIPPING

within continental USA. 
I bought this lens from Delaware Camera Mart on 1/5/1993. My friend at the camera store sold me several of the top SLR cameras so that I could test them out for my mail-order catalog production purposes and then return them all but my favorite one. For some reason I never got around to returning this Pentax lens. It is likely that is was never even removed from the box or the box's shopping bag. All the factory paperwork is still folded as-new in the box. The box flap does not feel like it was ever opened (until today so I could examine it, but I am being really careful to preserve its newness). My original receipt was with the box and it is also mint – you can have it, too!
This picture is a file photo from the Internet. I will post actual photos soon, but I almost hate to disturb the newness of this 1993 lens by removing it from the box!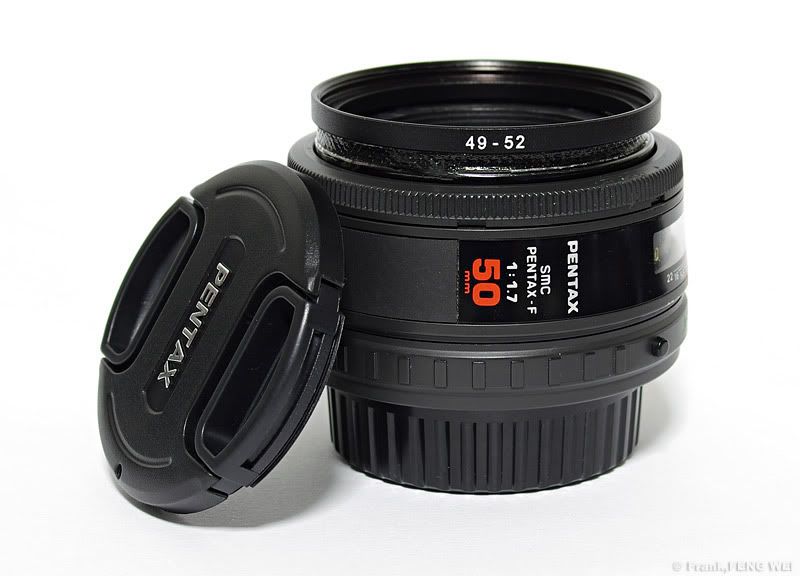 The text below was copied from an Ebay ad except I inserted the proper serial number. I will add photos and custom text as soon as I can, but this mint Pentax lens is available for sale immediately. I based the price on successful completed listings on Ebay. My price is slightly less than those and better because this lens is as-new in the box.
Thanks for making CHOICE Of 25 your first choice!
Howard Goldman

This is a Made in Japan series, Pentax-F series auto focus 50mm F1.7 AF lens film and digital series Pentax cameras . This is a lens with fantastic optical quality and stunning color rendition . It is a well built lens with a Metal rear lens mount that is highly regarded and a must have for low light shooting.
This is a low light lens with fantastic optical quality. It has the angle of view similar to the human eye and provides INCREDIBLE quality images. It is perfect for all film and digital camera uses alike – Great on Pentax cameras…..The auto focus is accurate and the aperture works well. This lens comes exactly as shown, in near Mint condition and is Beautiful showing very light signs of use at all. The glass has NO scratches, No fungus, light dust. The aperture works properly with No oil on the blades. The lens focus is smooth and works properly too. It is in great working condition – Ready to make you some fantastic images!!!!! This is a Sharp lens.
I have heard that these lenses work amazing on other cameras too with the proper adapter.
It comes complete with its Pentax front cap and a rear lens Cap, too…Ser#1897004

I have heard that many of these types of lenses can be adapted to Canon EOS, Olympus, Sony Nex and Konica-Minolta, Bolex, Red, Micro 4/3rds, Nikon J1, Nikon V1, Pentax-Q and other cameras with outstanding results too… Please verify compatibility before bidding…. cameras and other cameras with outstanding results in addition to 16mm and 35mm Motion picture cameras, or additional adapters can be found to fit many camera systems.